Please feel free to print anything you find on this website and use them in your Bible study, your ministry, your devotions... We hope and pray they will be a light in the darkness, bring healing and restoration to you, your family, your congregation...
The Truth you find here can attack, with precision, every point of darkness that might yet remain in you and release—right there—its light of hope. Also, ask the Holy Spirit to help you bring others before God's Throne so the same light can burst upon their understanding. You can pray like Paul did,
We...Cease not to give thanks for you, making mention of you in (our) prayers...that the eyes of your heart (dianoía, understanding, mind) may be enlightened in order that you may know (in a way that no one can take from you) •the hope to which He has called you, •the riches of His glorious inheritance in the saints, and •His incomparably great power for us who believe. (Ephesians 1:16,18,19)
DEAR LORD,
Thank you for the privilege of praying for these loved ones. Flood their hearts and minds with light so they can know the certainty of what you want for them.  Give them grace and strength to break from lesser calls.  Let them see Christ clearly so they can have a mark toward which to press as they move on in Your calling.
AND FATHER, If they are confused about what you want for their lives, I loose them so they can move with confidence in your calling.  Draw them into a relationship with you that will settle them peacefully in Your calling.
In the MIGHTY Name of our Lord Jesus Christ, Amen…
If we know even the basic elements of Ephesians Truth—that is, the understanding and light coming from the Apostle Paul in his Epistle to the Ephesians—then we know that the joy and triumph of the Lord Jesus Christ is given to us who receive His grace. However—for too many of us circumstances rule. For this reason we are learning to make intercession before the Throne of Grace for those we know, who are being overcome by pain, sorrow, resentment, retaliation and a long list of other spiritual scoundrels who always seem ready to jump on us.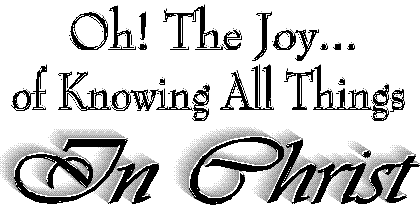 Ed Corley
We are aiming toward that special quality the Holy Spirit remains ready to bring into the heart of any believer. It is the quality of joy. Amazingly, it will have two companions—patience and longsuffering. All too often, these two, stand ready to rob the heart of joy. This is because too many of us seem to think that joy is the result of some good circumstance. Well, this is so—if the circumstances of our lives revolve around who we are and where we are in Christ.
  INTRODUCTION to the Last Estate Series

A Foundation For The Impending Storm
An Outline Of A Spiritual Foundation

As the days we are living in are becoming more turbulent, pregnant with impending storms, believers must come to the place in knowing the Lord that will enable them to endure suffering. This is especially so with regard to suffering from persecution. It seems very few are ready to stand in the face of suffering, especially from persecution. It is already upon many a believer around the world. Because of the anti-Christ activity behind it, the intensity of it will be more severe than ever any persecution has been. While all Christian persecution is brought on by anti-Christ spirits, never yet has such been brought on by the anti-Christ. While none of us are moving into the role of Prophet in saying this, it is out of the wisdom from above, and from the Scriptures, that we put this before you.

Some Clear Convictions
Foundation Stones for the Human Spirit

Now, I am convicted to put forward some of the clear convictions that have formed in my own heart and mind over the past several decades. These have helped form the foundation of my own spiritual life. What else could I write except what I know from the Word of God, quickened to me by His Spirit, and what the Spirit has taught me personally as I've walked with the Lord well over six decades "in the light of His Word."

Without my trying to hold on to these convictions, they have remain in my heart and mind as the foundation of my spiritual life. Our spiritual foundation is the most important part in anyone of us. What has happened with me is because of the Holy Spirit's determined work of mercy. Therefore, I can say at each point that will follow: They have been tested and proved for their value over many a rough road, often over wide chasms where there were no bridges.

I've not taken any of the following points from others. These point of conviction have been tested and proved in my own life. Others will have points of their own to add. It is my hope to open a forum of discussion as we all work through the foundations that will make us into overcomers. It is my prayer that each point will prove of value to you personally as we together are facing a time like we haven't known before.

Some of what I present I have shared before; much I have not. What has been presented before I expect to examine with you, with an eye from where I am—and we are—now.

Unless otherwise indicated, Bible quotations are from The King James Version